Probably one of the best weeks of thrifting I've had in a long time! 🙂 Real quick, first is another tray that I found at goodwill for $1.00. I will make this a magnet board like
THESE
for my "craft room to be" or the school room.
Now…..I went to an estate sale…went straight to the garage (where no one else ever goes) and looked in the corner and saw this beauty (the chair on the right) covered in cobwebs and junk. The sweet girl running the sale said, "oh THAT thing…just take it".
"Will do honey." I LOVE the way it sits lower to the ground and is nice and spacious…at least two little ones could snuggle in there!

The other chair was given to me too and the drawer goes to a desk that I purchased for $20.00. It is going to be my crafting desk…I'm super pumped about that!….but back to the cutest chair ever makeover……
The kids and I washed and scrubbed this down. Then I sanded the thick painted spots….and sprayed a little primer on it.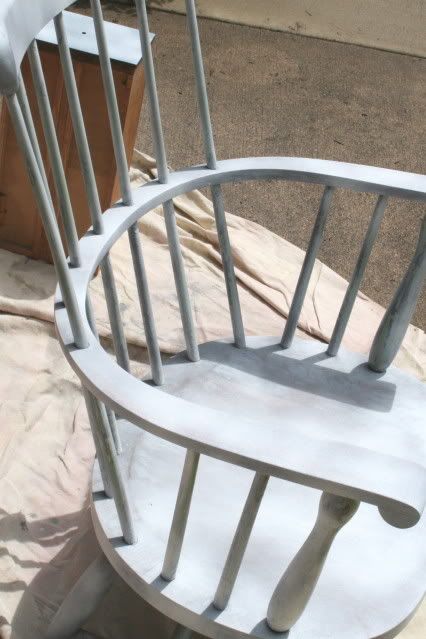 At this point I began to waiver away from my choices of 'black' or 'heirloom white' and started to think like a crazy happy mom and decided on THIS!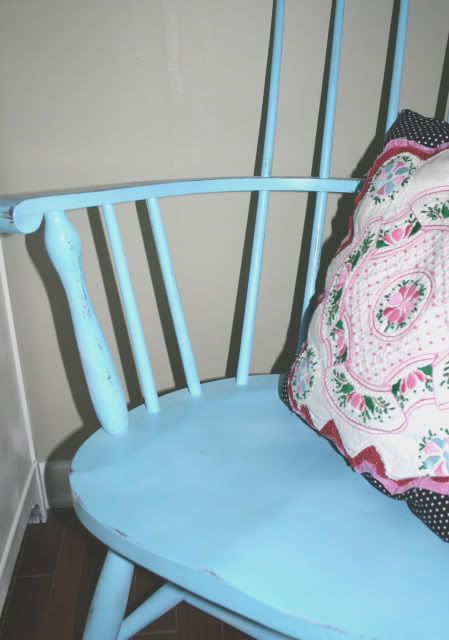 It is so happy and cute in my office slash "soon-to-be craft room" corner. And I think my little pillow looks right at home! Remember it?…..take a look here. My kids love our happy chair already!
Edited to add the color paint i used for the chair:
Rust-oleum Painter's Touch in Satin Aqua
I sealed it, using a foam brush, with:
Minwax Water Based Polycrylic Protective Finish in Clear Satin

Now on to the desk! I found this in the basement of the estate sale (the other place no one goes). It was in the unfinished area piled high with uhlotuhjunk…… I don't have a great before pic…but you saw the drawer and here it is already sanded a bit.
Sanded and sprayed with primer….

Went with a fave…Rustoleum's "heirloom white" ….distressed and poly sealed….
knobs will be coming tomorrow after a quick stop at Hobby Lobby….they'll be 1/2 off. This desk is so quaint and is the perfect size for my sewing machine and craft stuff. I will be working on this area and hope to keep the updates coming! 🙂
Join Rhoda over at Southern Hospitality for LOTS of fun posts on thrifting!! 🙂